NTWind News
This is a news blog about software published on NTWind website. You can subscribe to the NTWind News by email or RSS to stay up-to-date with our products and services.
---
Changelog for WinSnap v5.0.7 (February 6, 2019):
Tray icon is now restored after Explorer restart
Fixed crash when double-clicking new text object
Fixed combo box text spacing on high DPI
Some other minor improvements and bug fixes
Download WinSnap (32-bit and 64-bit)
Posted by Alexander Avdonin on 05-Feb-19 23:37
---
Hidden Start (or Hstart) is a lightweight command line utility which allows you to hide console window and UAC elevation prompt, run multiple commands synchronously and much more.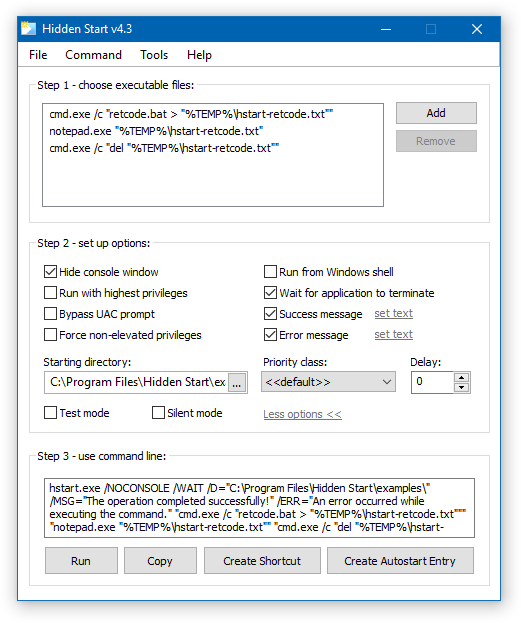 Changelog for Hidden Start v4.6 (February 4, 2019):
Added tooltips to command line options in Hstart GUI Tool
Fixed a few minor issues with high DPI screens
Several stability and performance improvements
Download Hidden Start (32-bit and 64-bit)
Posted by Alexander Avdonin on 04-Feb-19 03:23
---
Changelog for Alt-Tab Terminator v3.8 (January 28, 2019):
New languages: Farsi
Improved "close" feature to work with background apps
Some other minor improvements and bug fixes
Download Alt-Tab Terminator (32-bit and 64-bit)
Posted by Alexander Avdonin on 28-Jan-19 04:41
---
Changelog for WinSnap v5.0.6 (January 15, 2019):
New languages: Czech, German
Improved shadow drawing algorithm
Fixed installer to display the full list of languages
Download WinSnap (32-bit and 64-bit)
Posted by Alexander Avdonin on 15-Jan-19 06:30
---
Changelog for Sticky Previews v1.9 (January 8, 2019):
Better icon scaling on high DPI screens
Some other minor UI improvements and bug fixes
Download Sticky Previews (32-bit and 64-bit)
Posted by Alexander Avdonin on 08-Jan-19 04:47
---
Changelog for WinSnap v5.0.5 (December 6, 2018):
Updated languages: Farsi, French, Turkish
Fixed crash when starting in Region capture mode
Some other minor improvements and bug fixes
Download WinSnap (32-bit and 64-bit)
Posted by Alexander Avdonin on 06-Dec-18 01:58
---
Changelog for WinSnap v5.0.4 (November 29, 2018):
Updated languages: Dutch, Spanish
Initial window size was changed to a smaller size
Some other minor improvements and bug fixes
Download WinSnap (32-bit and 64-bit)
Posted by Alexander Avdonin on 29-Nov-18 02:05
---
Changelog for Alt-Tab Terminator v3.7 (November 26, 2018):
New languages: Arabic, Indonesian, Slovenian
Fixed switcher window appearance on the lock screen
Some other minor improvements and bug fixes
Download Alt-Tab Terminator (32-bit and 64-bit)
Posted by Alexander Avdonin on 26-Nov-18 08:29
---
Changelog for WinSnap v5.0.3 (November 20, 2018):
Languages: Chinese, Danish, French, Spanish, Ukrainian
Fixed modified document flag when changing resize settings
Fixed font for empty screenshot text
Some other minor improvements and bug fixes
Download WinSnap (32-bit and 64-bit)
Posted by Alexander Avdonin on 20-Nov-18 01:30
---
Changelog for WinSnap v5.0.2 (November 17, 2018):
Languages: Arabic, Chinese, Dutch, Hungarian, Korean, Slovenian
Fixed pen shadow and saving shadow boundaries
Fixed "Clear background" option always on
Some other minor improvements and bug fixes
Download WinSnap (32-bit and 64-bit)
Posted by Alexander Avdonin on 17-Nov-18 04:40
Showing 1 - 10 of 147 Articles | Page 1 of 15