Best SUBST Alternative with Labels and UAC Support, Mount Folders as Virtual Drives
Visual Subst allows you to create virtual drives for your most accessed local directories and network shares. It solves 3 main issues with the built-in 'SUBST' and 'NET USE' commands: it creates drives for elevated applications without any UAC prompts, adds editable drive labels and restores drives after reboots. Visual Subst is the best alternative to writing complicated scripts and editing registry manually.
You can use virtual drives everywhere – it's so much easier to access files in a project directory you are currently working on using just a single drive letter. Visual Subst provides you with a clean, simple and distraction-free user interface where you can manage all your virtual drives at any time.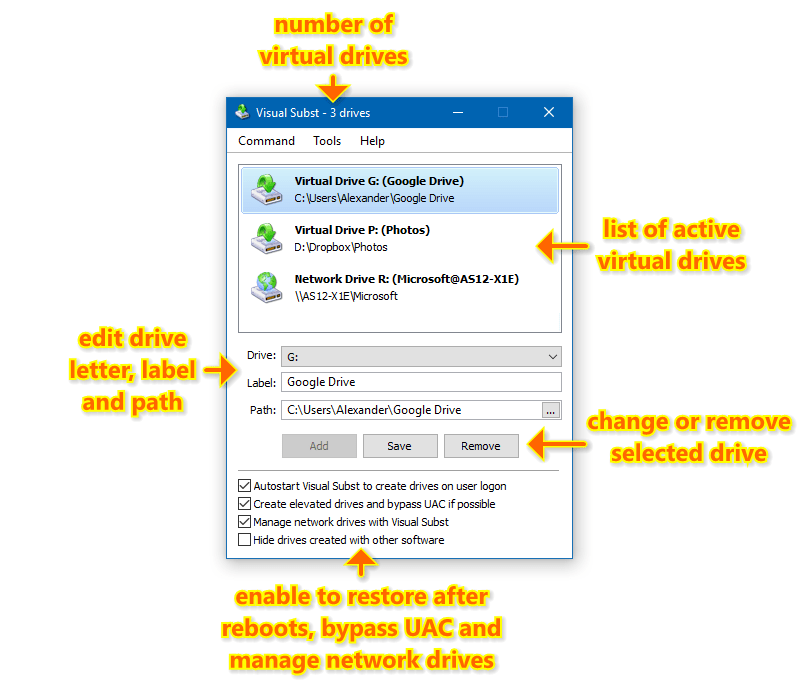 Screenshots created with WinSnap – 20% discount if bought together with Visual Subst!
Map Google Drive, OneDrive or Dropbox as Virtual Drives
Despite their names, all three services simply create a shared folder on your PC instead of an actual drive. Visual Subst is the easiest solution to map these shared folders as virtual drives with custom labels and drive letters, so that you can access your files in a much more convenient way.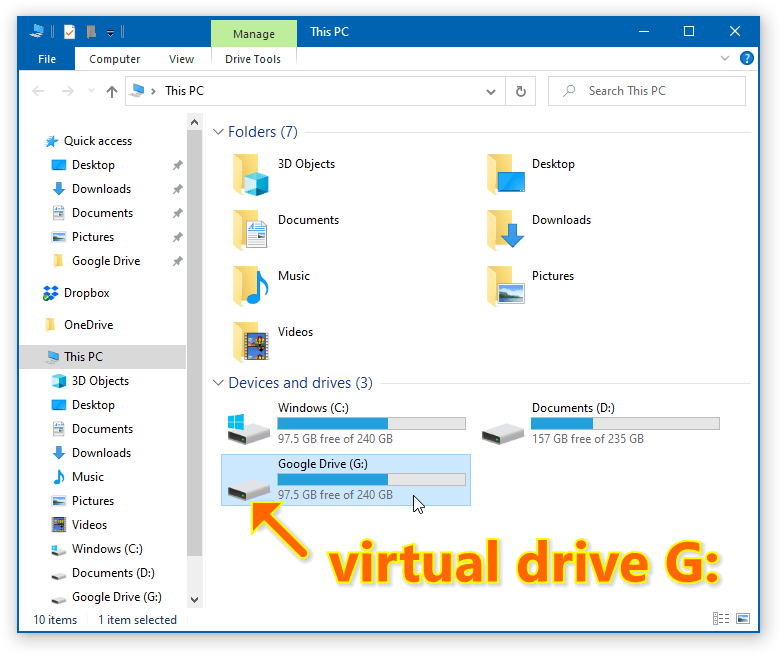 Add shared folders to Visual Subst to create virtual drives: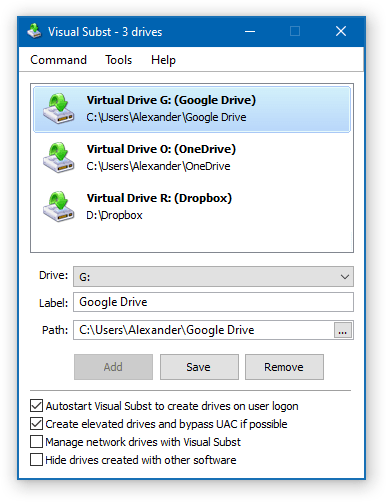 How It Works
Generally, a virtual drive is a symbolic link in the local MS-DOS device namespace. It is just one more Windows feature added for backward compatibility with old programs and batch scripts.
Unfortunately, there are some significant limitations with the built-in 'subst' command under Windows Vista and above. Virtual drives created with 'subst' command aren't visible for elevated applications (if you run a file manager or Command Prompt as administrator, you will realize that apps see these drives differently). You cannot define drive labels – label of the source drive is always used and it cannot be changed. All virtual drives are removed when the user logs off or restarts the computer.
Visual Subst makes virtual drives usable again under newest versions of Windows:
UAC and elevated applications: Visual Subst seamlessly creates virtual drives for elevated applications duplicating the drives created for the standard user. It bypasses UAC prompts using the same technique as Hidden Start with /NOUAC switch making no distraction to the user.
Virtual drive labels: Drive labels are useful if you often use Windows Explorer. Visual Subst allows you to define and edit virtual drive labels easily.
Restoring drives after restart: Visual Subst saves the list of virtual drives and loads it on the system startup. No additional action required – just make sure that "Create virtual drives on system startup" option is enabled.
Command Line Usage
You can run VSubst.exe from the command line in the same way as the built-in 'subst' command:
VSUBST [drive1: [drive2:]path] [drive label]
For example, map C:\Users\Alexander\Projects to drive P: and define label "Projects":
VSUBST P: C:\Users\Alexander\Projects Projects
To remove a virtual drive, run:
VSUBST [DRIVE1:] /D
For example, remove drive P:
VSUBST P: /D
If you run VSubst.exe without parameters, it opens the GUI with the list of current virtual drives.
---
Visual Subst supports all versions of Windows from Windows Vista to Windows 11. Native 64-bit version is included in the setup package and installed automatically.