Best Alt-Tab Replacement for Windows with Search, Live Previews and App Cloud
Alt-Tab Terminator is an elegant and powerful task management utility for Windows. Once installed, it replaces the default Alt-Tab dialog with a nice box that shows a list of all running tasks, with their names and preview snapshots, and enables the user to search through the list and navigate using the mouse and keyboard. Alt-Tab Terminator is the direct successor to VistaSwitcher and TaskSwitchXP.
Following Windows 11 UI guide lines, Alt-Tab Terminator seamlessly integrates into Shell:
It automatically switches between light, dark and high-contrast modes.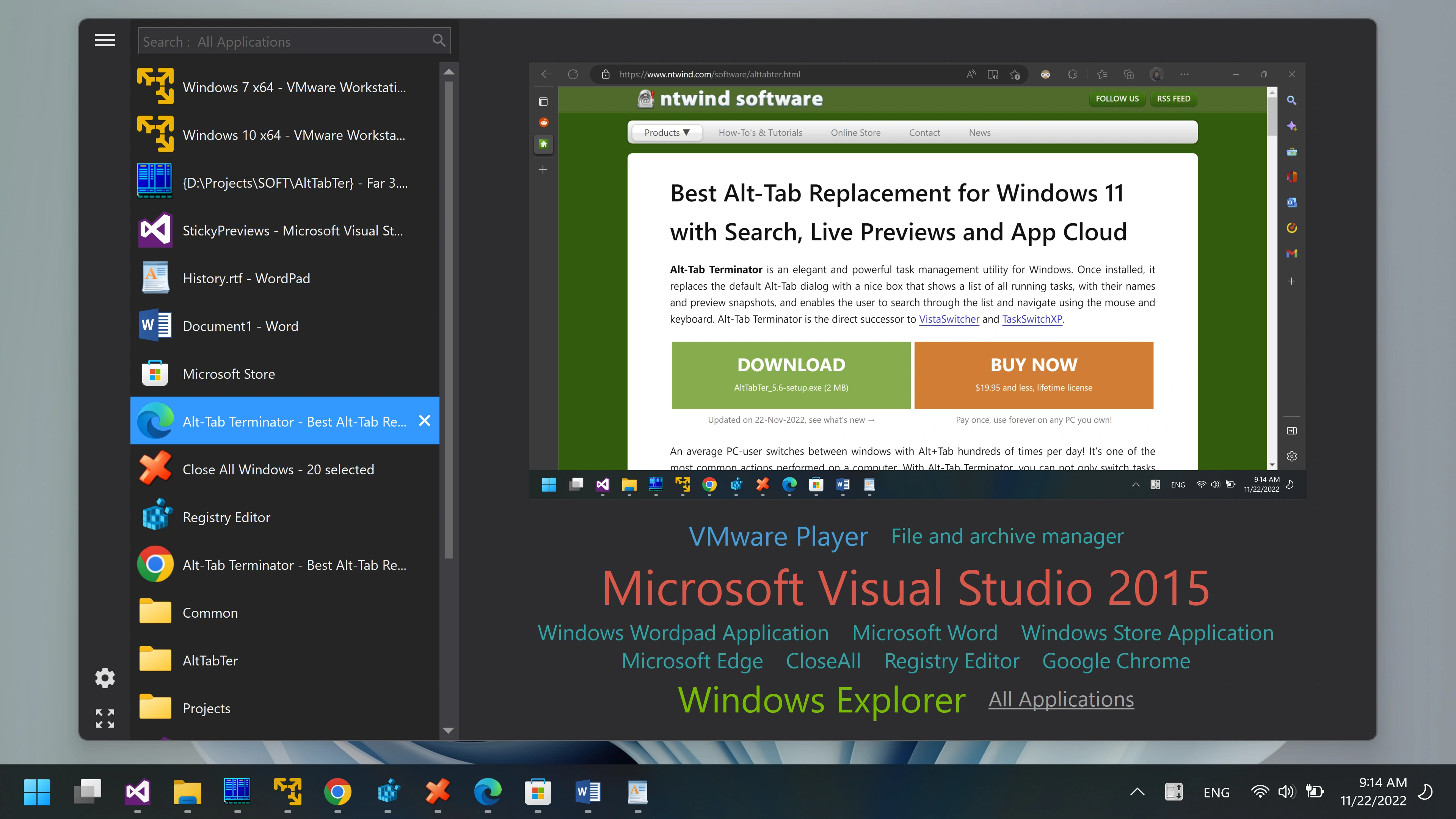 Screenshots created with WinSnap – 20% discount if bought together with Alt-Tab Terminator!
Brand New Alt-Tab with Search
The main advantage of Alt-Tab Terminator is a brand-new switching window. Unlike to the standard Alt-Tab, it shows a live desktop preview of the selected application and an easy-to-read relevant list of tasks with titled icons so you can find the one you need immediately at a glance.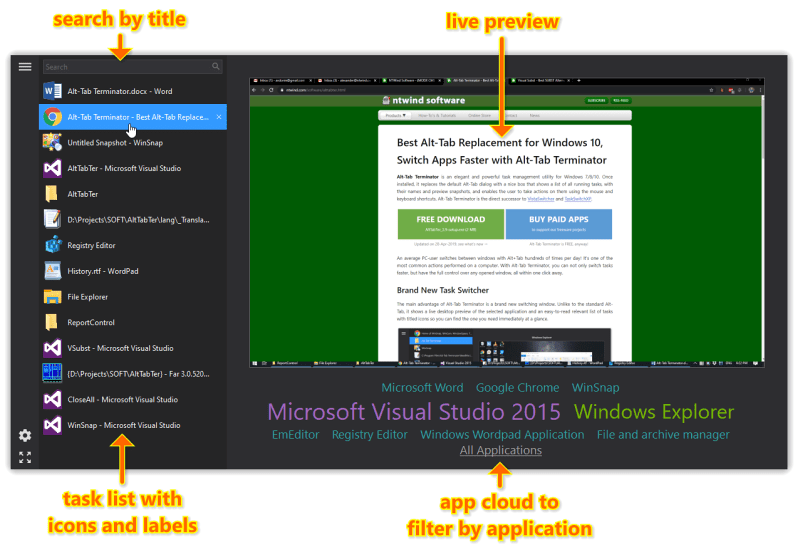 Search by Title: After opening Alt-Tab Terminator, just start typing to quickly filter windows in the task list by the title or application name. Finding the right window has never been easier!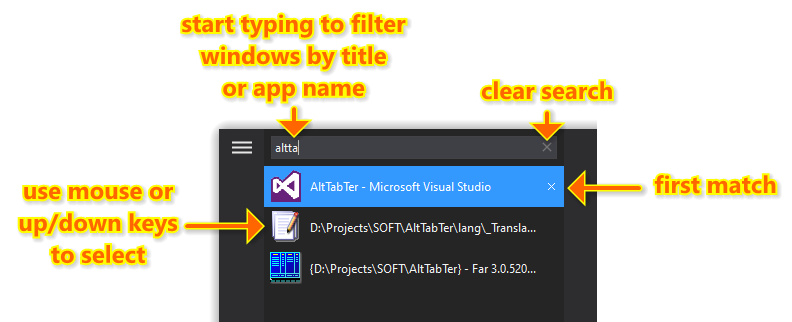 Live Preview: Visualization is the key point. Alt-Tab Terminator shows you the exact live desktop preview of the application you want to switch to, even if it has multiple child windows.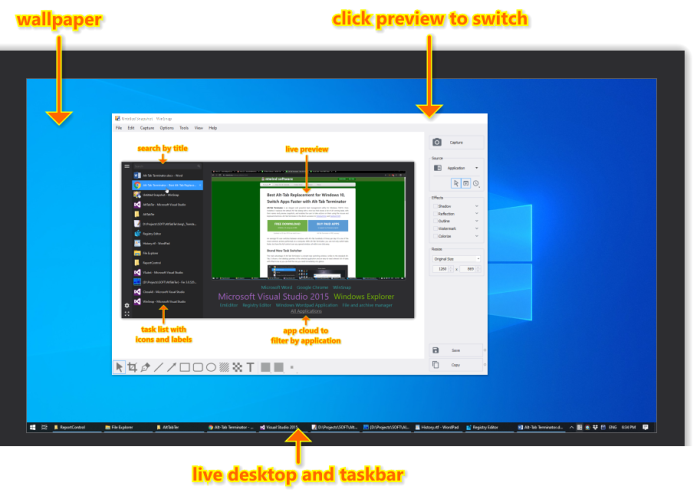 App Cloud: Click the application names below preview to filter windows of the selected application. Press Alt + ` (Backtick – the key above Tab) to switch between windows of the active application.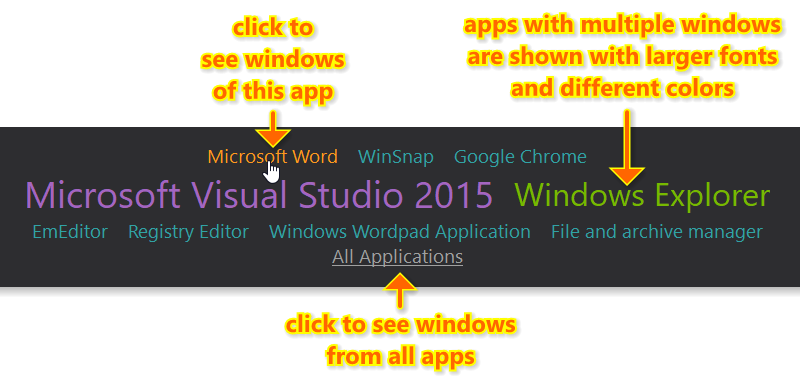 Clear Large Labels: Multiple window titles are arranged on a vertical task list; a large icon is placed by each one of them. Finding the right window has become much quicker.
Mouse & Keyboard Shortcuts: Navigate through the task list with the keyboard (Tab, Arrow Keys, Home, End, etc.) or the mouse – simply place the mouse pointer over a task or use the mouse wheel.
Full Screen Mode: Press F11 or click the Full Screen button in the bottom-left corner to maximize the switcher window to the whole screen.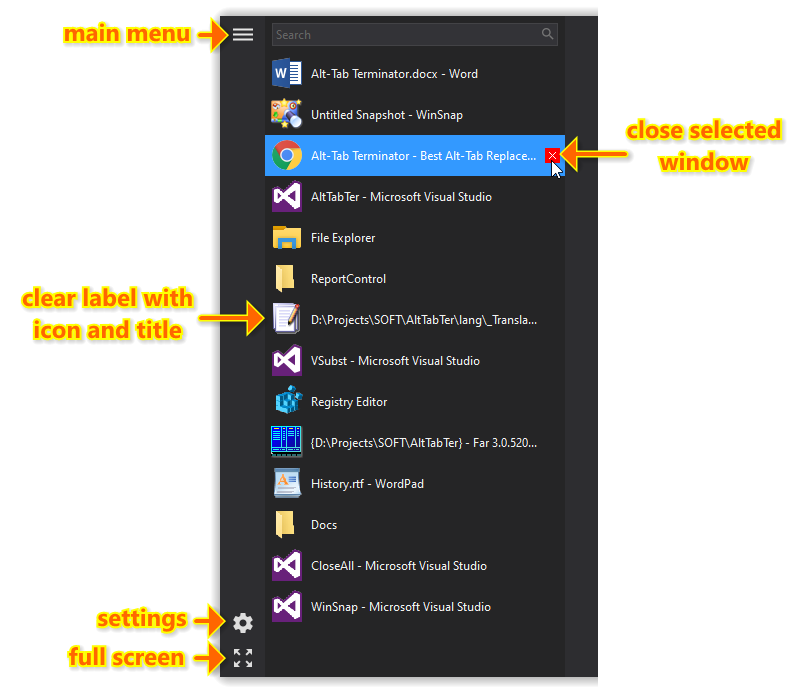 Quick & Easy Customization: Press the Menu button in the top-left corner of Alt-Tab Terminator to access the program menu and settings.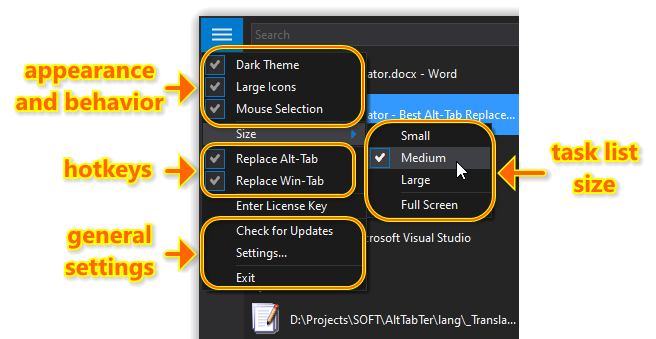 Window Manager: With Alt-Tab Terminator, you get the full control over opened windows – you can close, minimize, maximize, restore the main window, run a new copy or terminate the application.
There is a keyboard shortcut to every action. For example, pressing F4 will close the selected window, similar to the default Alt+F4 shortcut – easy to remember and use!
Support for Windows 11 and UAC
Alt-Tab Terminator works with 32-bit and 64-bit applications, even if you run them with administrative privileges. It also supports high DPI and modern Windows Store apps on Windows 11.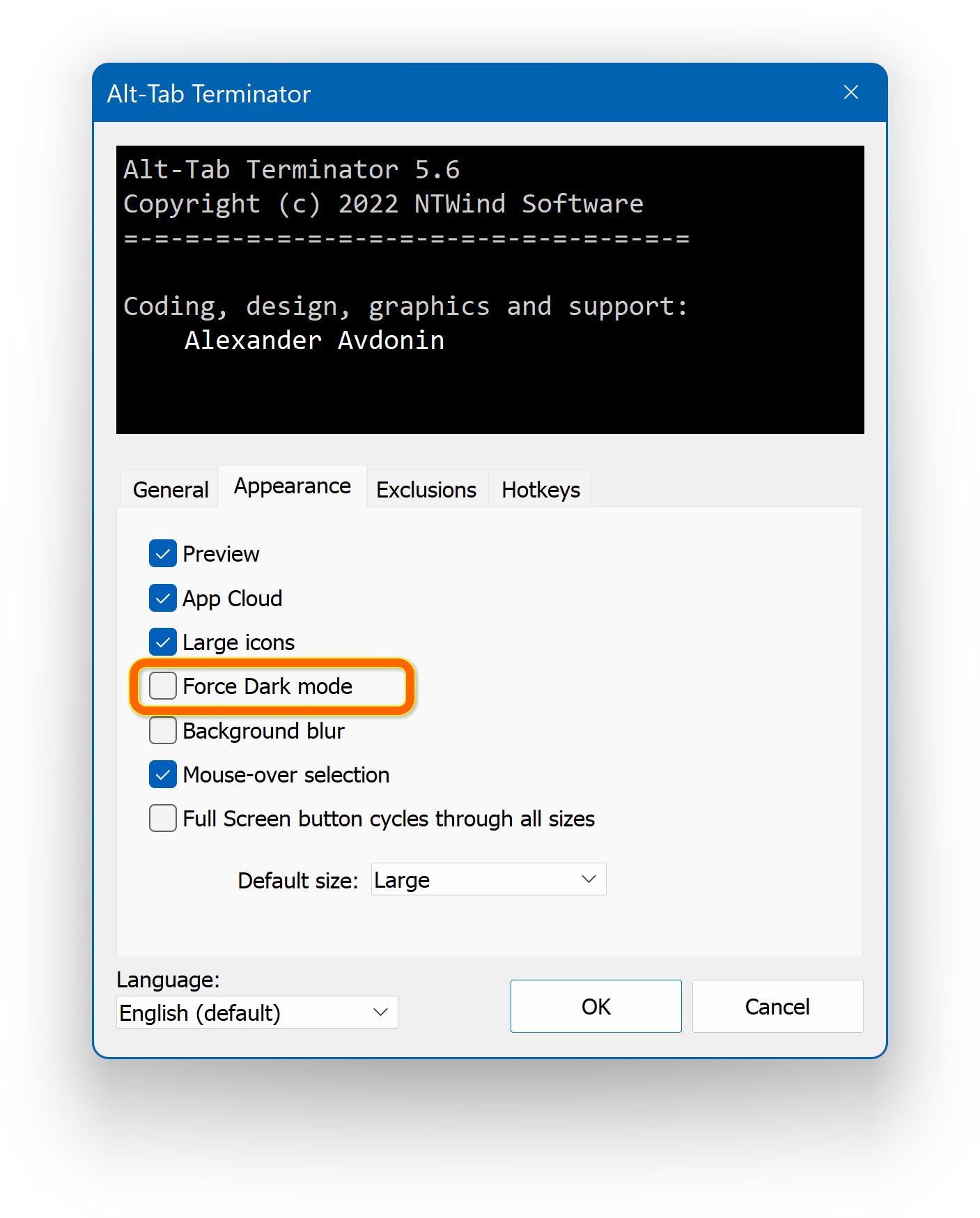 Try Alt-Tab Terminator now and you'll never turn back to the old Alt-Tab again!
---
Alt-Tab Terminator supports all versions of Windows from Windows 7 to Windows 11. Native 64-bit version is included in the setup package and installed automatically.