The Brand New Alt-Tab Task Switcher
Have you ever counted how many times per day you use the Alt-Tab keyboard sequence? Statistics show that an average user switches between applications with Alt-Tab hundreds of times per day! It is one of the most common actions performed on a computer.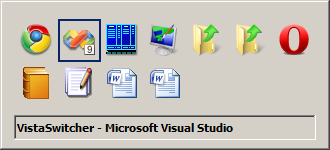 Default Alt-Tab dialog on Windows XP
More surprisingly, it seems that this common task is completely unappealing and inconvenient in its default realization. You have to cycle through small, non-informative icons, reading the titles of the applications until you find the one you need. Quite an unproductive way to spend your time, isn't it? Even Windows Vista didn't add much comfort to this action!
Happily, with VistaSwitcher, the Alt-Tab action is finally organized in such a way that it is visually appealing, makes sense, and ensures effective use of your time — as it should have been from the beginning.
Find The Right Window Faster
The main advantage of VistaSwitcher is a brand new Alt-Tab switching window. Now you don't have to work your way through dozens of unnamed icons, searching for the desired application. VistaSwitcher shows a full-sized preview of each task window and easy-to-read relevant lists of tasks running, all shown clearly with titled icons so you can find the one you need within seconds.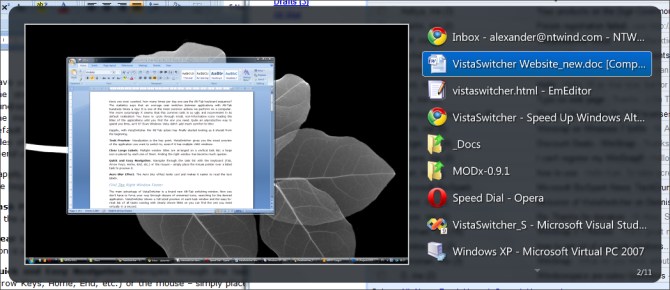 (click here for a larger screenshot)
Task Preview: Visualization is the key point. VistaSwitcher gives you an exact preview of the application you want to switch to, even if it has multiple child windows.
Clear Large Labels: Multiple window titles are arranged on a vertical task list; text labels are easy to read, with a large application icon placed by each one of them.
Cool Transparent Window: The new Alt-Tab switching window looks great and doesn't slow down your system. Under Vista and 7, VistaSwitcher presents the screen preview a little differently, optimizing the advantage of the look and feel of transparent layers.
Quick & Easy Navigation: Conveniently, you don't have to press the Alt-Tab repeatedly to finally select the required application. Navigation is much easier (and more intuitive, too); simply hover your mouse over the desired task or select it with the arrow keys on your keyboard. With VistaSwitcher, finding the right window is a breeze!
We bet that you'll be switching tasks two times faster now with VistaSwitcher—perhaps simply to see its astonishing, eye-catching process! You'll never go back to the old, awkward Alt-Tab dialog again!
Switch Between Windows Using Only the Mouse
You can easily configure VistaSwitcher to move between applications, using only the mouse. No keyboard shortcuts required! Just hold your right mouse button down and scroll the wheel up or down to select the window you want. Once you've found what you need, release the right mouse button to switch to the selected task. This is very handy when you're surfing the Web, or simply don't want to use the keyboard.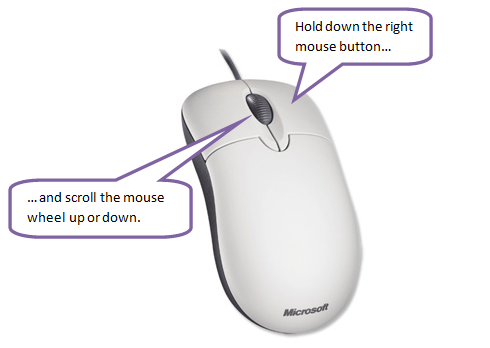 To turn this option on, open the VistaSwitcher Preferences dialog and, under the "General" tab, enable the "Replace the Right Mouse Button + Wheel" option. Please note, the feature is disabled by default.
Learn more: VistaSwitcher - Keyboard Shortcuts
Quick Links