How to Manage Multiple Windows with VistaSwitcher
If you think VistaSwitcher's only surprising feature is its powerful task switching capabilities – you're wrong! It's merely the tip of the iceberg. With VistaSwitcher, you also have full control over any opened window, all within two clicks away. So, go ahead – minimize, maximize, restore, cascade, tile vertically or horizontally, close or even end the process!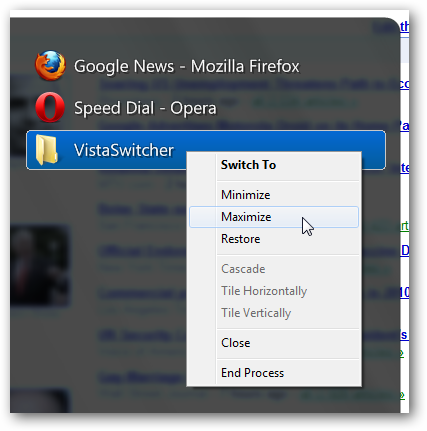 VistaSwitcher right-click menu
Moreover, you can select multiple windows and apply the same action to all of them simultaneously. Simply select the windows of your choice using the middle mouse button or Shift + Arrow Keys (or "S" shortcut key), and then apply a bulk action to all selected windows.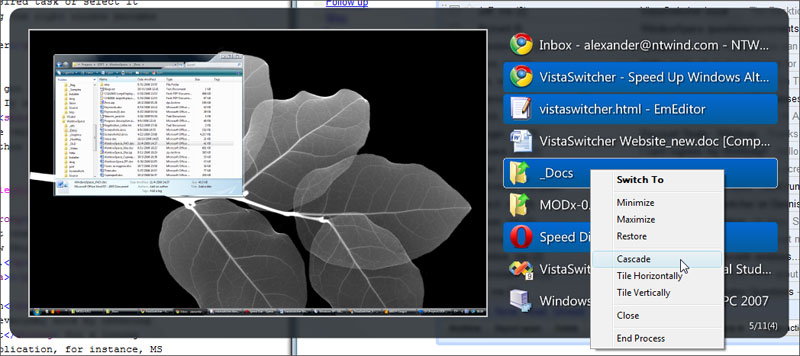 There is a keyboard shortcut to every action: press "S" to select or "D" to deselect a task; press "M" to minimize the selected windows; "V" and "H" to tile windows vertically and horizontally, respectively. Press "X" to close the task of your choice or "T" to force the termination of a process. Obviously, any of these actions can also be done through the right-click menu.
Learn more: VistaSwitcher - Keyboard Shortcuts
Quick Links