Visual Subst v2.4 - Manage Network Drives
Now you can create, edit and remove network drives with Visual Subst. This is an experimental feature, so you have to enable the corresponding option on the bottom of the main dialog to start using it.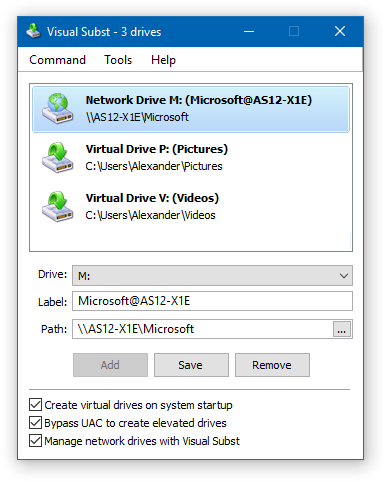 The second new option allows you to disable creation of elevated drives if you don't need them.
Changelog for Visual Subst v2.4 (July 28, 2019):
Added ability to manage network drives with Visual Subst
Added option "Bypass UAC to create elevated drives"
Added "Remove All" command to remove all drives at once
Main window position is restored now after restart
Fixed title of error messages and dialog boxes
Fixed an issue with removing drives from command line
Some other minor bug fixes and improvements
Download Visual Subst (32-bit and 64-bit)